In its relentless search to continue discovering and featuring local artists that conjure up and relay a different take on the indomitable Miami spirit, Kcull is excited to announce the official pop-up store by TOY at our very own Kcull Boutique, located on 1735 SW 8th St in boomtown Little Havana.
@toyinvades takes a bow after completing
her very own mural rendition at Kcull Boutique
Upcoming, stay tuned for the artist's imminent event, which will grace Kcull Boutique's signature Friday DJ nights. This artful initiative has brought new and exciting relevance to the curated evening retail experience of historical Barrio de la Pequeña Habana, fusing and coalescing local crackerjacks and handwerkers under the flag of community life and pride.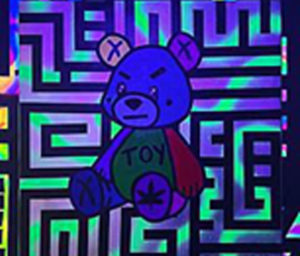 Rendition of @toyinvades signature toy bear
have been making waves since 2020, as she infused new tint glow and vibrancy to already acclaimed Miami city lights colorways.
@Toyinvades is presently an international artist, showcasing a booming career that has put her in center stage in just two years of dedicated spray painting and muraling. Having learned her trade from master street artist J.O. Art, in 2021 she went on a 3-month spree of dedicated street creation producing a whooping 40 murals, a feat she documented thoroughly on Tik Tok (Selfie Museum – 45 million views) and other social videography platforms.
T O Y has featured in a number of leading events in the City, such as Floridart Village, which featured 20 local artists strutting their stuff around live painting.
On a more personal tone, @toyinvades personally curated two events, including 305 Day and Only In Dade. Her events garnered the fruitful sponsorships of La Granja, #etherstream, Crypto Corridor, and the artist meetup platform and space ninoNftcafe.
Her biggest impact to date was Miami's Art Basel 2021's Directors Arts Panel, where she premiered her patterned tape maze mural. She will be making a new appearance at Art Basel 2022 for the huge 3-day music + art festival.