As a collective of visionaries, artificers, illuminators and handwerkers, Kcull makes a special effort to always showcase pieces and art that enables our discerning clients to find that special 'je ne sais quoi' they are looking for. It might be a memento of their trip to Miami, a gift for that special someone, a present for Mother's of Father's Day, or just plain the very thing that gives them the joy to wear or bring home.
This month, Kcull is featuring the very special artistry of Mutantland by Al Benkin, a true all-rounder virtuoso based out of Miami that brings forth a very unique skill set as an assemblage artist, woodworker, pop surreal painter, and fiber art doll maker.
Mutantland blends several schools of art (pop surreal, old-school surrealism, modern folk art) with select mediums (wood, fiber, metal, canvas) and eclectic content (political and personal satire, comedy highlighting the absurdity of daily life and things swept under the proverbial rug). Although, in Benkin's own words, "I love creating really weird stuff," her work is often cloaked in "nostalgia, evidence of time and impermanence."
Located in the storied and famed Calle 8, as well as in the Coconut Grove Village Market, Kcull stores feature a curated selection of Mutantland handcrafts, including:
A handmade Owl Wall Art, part of the Future Ghost Series. Largely based on repurposed found objects her grandmother —akin soul and painter Juanita Beenken— called happy ghosts, this creation starred in the 2019 "f u t u r e g h o s t s" pre-pandemic exhibit at Pleiades Contemporary Art Gallery in the Chelsea Art District of NYC.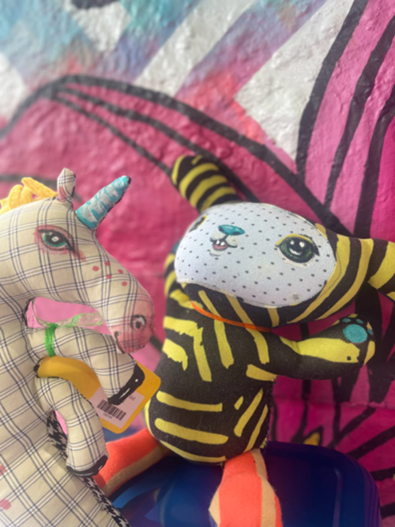 Unique, one-of-a-kind Stuffed Animals such as these are snuggling interpretations of Benkin's Art Dolls series made from fiber.
This handmade Snake Collage is a wooden assemblage fraught with visual and allegorical iconography inspired by real-life and personal myths and meant to be used as hanging wall art.
Additional pieces are also available, namely wearables such as hand-painted one-off jackets and other casual apparel, handmade ornaments such as earrings, pendants, collars, plaques and pins, accessories such as bags, and a number of small works, cartoons and fine crafts, paintings and other and artistic vehicles.
Al Benkin is the one-person endeavor behind Mutantland Art. She was born with a limb difference (one partial arm), so not only is her work all handcrafted but, as she likes to say, "I do it all single-handedly." Catch her displaying her live painting prowess in Wynwood-2nd Ave. after 7 pm on Saturdays and indulge in one of her unique pieces at Kcull.